Invisalign® Clear Aligners
Imagine a braces treatment that doesn't use wires or metal brackets, a treatment that is virtually pain free and doesn't require you to change your current lifestyle. With Invisalign aligners, you can straighten your teeth and experience the benefits of a great smile without having to deal with a mouth full of metal! Invisalign treatment uses a series of clear, removable, comfortable aligners that straighten teeth in less time than traditional braces.
Clarity™
Orthodontic treatment no longer means having a mouth full of unsightly metal wires and brackets. Clarity self-ligating braces are an aesthetic alternative to traditional metal braces. Clarity braces are clear, small in size, and customized to fit your teeth and mouth. Clarity braces are safe and effective, and are a great option for patients of all ages.
Sleep Apnea
Do you get drowsy easily without any explanation? Have you started snoring loudly or waking up breathless in the middle of the night for no reason? If you have any of these symptoms, you may have a condition known as sleep apnea. Sleep apnea affects millions of Americans and can be a serious condition. Sleep apnea can be controlled by working with a sleep specialist who can prescribe safe and effective treatments.
TMJ/TMD Treatments
What is TMJ/TMD and why does it matter to you? Temporomandibular Disorder is a condition where the joints in your jaw become sore and movement is restricted. Millions of Americans suffer from chronic face and neck pains as well as recurring headaches. These can all be signs of a TMD/TMJ condition that may require treatment.
Types of Braces
Traditional Metal Braces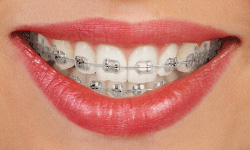 Traditional metal braces are the most common type of braces and are more comfortable today than ever before. Made of high-grade stainless steel, metal braces straighten teeth by using metal brackets and archwires. With metal braces, there is the option of adding colored elastics (rubber bands) for a more unique and colorful smile.
Self-Ligating Braces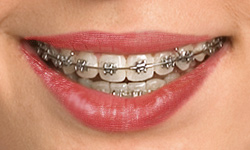 Self-ligating braces are made from the same materials as traditional braces; however, self-ligating braces do not require the use of elastics, meaning fewer appointments and less friction being placed on the tooth. Self-ligating braces come with traditional metal, ceramic, or clear brackets. They are the same size as metal braces, but they use a specialized clip in place of elastics to help the archwire guide teeth into place. The clip helps reduce the amount of pressure being placed on the tooth and requires fewer adjustments because there are no elastics to replace.
Clear Aligners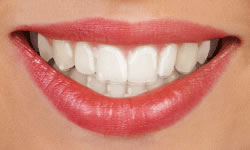 Clear aligners are a series of invisible, removable, and comfortable acrylic trays that straighten the teeth like braces. Not only are the aligners invisible, they are also removable, allowing your child to eat and drink without concern while in treatment. Plus, this helps to make brushing and flossing less of a hassle. The aligners are comfortable and have no metal to cause mouth abrasions during treatment.